Welcome to the blog 4InfinitePurlersToday! Yes. This is for all keen "purlers"!
Why Do We Chat (Natter) About Knitting?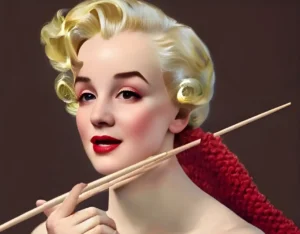 Knitting is a hobby that many people take up in their spare time. Knitted clothing is an emerging trend in the fashion industry, and yet knitting has ancient origins, and celebrities like Marilyn Monroe and Audrey Hepburn did it once before by sporting stylish knitted sweaters and gloves.
Marilyn Monroe's iconic look is one of the most recognizable in Hollywood history. One of the key components of her look was her love for knitting. She even had knitting needles in her purse.
Knitting and crocheting are two popular hobbies that have been around for centuries and they are still going strong today. Women, men, and children all enjoy knitting as a hobby or as a way to make themselves uniquely original clothes and to save money while relaxing to the comforting click of knitting needles.
CONTACT INFORMATION:

IPPTS InfinitePurlersToday
Mailing address: 11 Adswood Grove, Shrewsbury, SY3 9QG
Phone: 447875170878
Adswood Grove
Shrewsbury, Shropshire, SY3 9QG
United Kingdom
Contact Email: lastraddie@gmail.com.